Welcome, my friends, to another post on Lionhearted Art.
Today, I'm going to be sharing with you a little bit of art. Technically "fan art," but not, because technically… I'm not actually a fan. And unless you're not a fan either, you probably already know what this post is going to be about. Namely, The Greatest Showman.
So, you're probably wondering, "If you're not a fan… why did you make the art?"
Well, because my sister asked me to very nicely. And she bought me (aka, bribed me with) a new laptop mouse.
While I may not be a fan, I have to admit, this is a very visually artistic movie. Very aesthetic. Aaand it just happens my sister chose the least aesthetic frame of the whole movie for me to draw.

Her, asking me to draw it:

Me:

But she asked nicely, and I'm pretty much powerless against someone asking nicely, so yeah. 😉 I decided to do this digitally (in GIMP, as usual). I had kind of a loose digital painterly look in mind, which didn't end up happening at all.
But I had fun with it…
A little… too much fun.

I love digital art because you make make little masterpieces like this along the way:
Got about half way through with out anymore clown faces…

Anne's face is looking a little squashed and funky, though. Another reason I love digital art: You have this little select tool. All you have to do is select, stretch. Boom! Problem solved. (Okay, it doesn't quite work that way. But it is quite nice to have those tools. *thumbs up*)

Well… Anne is looking significantly better, but what is going on with Mr. Carlyle's face?

Aaughh!!

That's a little better. Still, I don't think I would want to rewrite the stars with this guy.
Alright, I'm going to cut in and say, even though this post was basically just me… making fun of Phillip Carlyle, I will say that after actually seeing the movie… he's probably my favorite character, honestly. That's not saying a lot but still…
My sister reading that last paragraph after hearing long rants about how much I can't stand Phillip: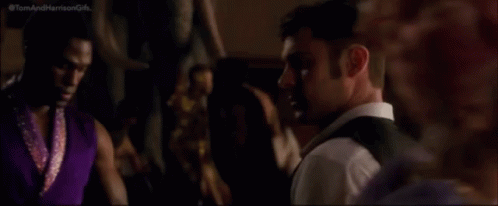 For the record, most of those rants happened before I saw the movie….
Anyway.
And now for the epic reveal….
Ta da!
You know, I'm actually pretty happy with how this turned out. And (I'm pretty proud of this), I did it with a mouse!
Let me tell you, it's so discouraging to hear more experienced digital artists say stuff like, "You can't make digital art with a mouse! You need to invest in a good tablet and pen."
Boom! In yo' face. Guess what I just did.
Okay, okay, I'm not trying to brag or anything. I'm just want to encourage other artists…
Don't let what you don't have keep you from pursuing what you love to do. And definitely don't let an artist who is "better than you" tell you you can't make art as well as them if you don't have the same materials as them.  If you, like me, don't have a working tablet and pen, it's alright. Digital art might be harder without those tools, but that doesn't mean you can't do it.
So thank you, Grace, for asking me nicely to make this. I, for one, have learned a valuable lesson (and yes, despite my initial reluctance, had fun) along the way.
I hope you all enjoyed this post. Let me know in that comments: Have you seen The Greatest Showman? What are your thoughts on it? Do you enjoy digital art? Anyone else work in GIMP?
And to all the people who love The Greatest Showman:

Until next time, stay brave, folks!
~ Chalice