Hey guys!
I haven't been creating a ton of art lately, (and what I have I can't share with you yet, because either a) I don't have permission,  b) secret projects are a thing, or c) I just don't like sharing unfinished artwork until I can also show you the finished product [I know, I'm picky that way].) So instead of doing an art dump, this post is more like a life dump, because honestly, life is what has been going on around here.
My family has been working on renovating our house. The other day, Grace, Jack, and I stayed up till 3am repainting the living room and listening to Owl City, Charlie Kirk's podcast, and other random playlists on Spotify, so that was fun. Also, I'm so glad we did it during the night, because we had six children under the age of ten at our house at the time… 'nuff said.
In my life, I got a commission to do my second ketubah! And it's going to be a LOT more complicated than the first one. But I've asked God to provide for me, and He is. I just need to do my part (aka, get my rear into gear and stop procrastinating).
My desk/workspace was kind of stressing me out.
So I decided to do a little straightening.
Ah, I can breathe again. I'll admit, I'm not the most organized/aesthetic person out there. I like organizing things, but I'm bad at keeping things organized. (And yes, that's Cool Mr. Lamp. Complete with a DIY paper towel diffuser. He's the Pixar lamp's second cousin, three and a half times removed on his great uncle's side.)
In my life… I now have the Beatles song stuck in my head. Which reminds me of one of my favorite gifs.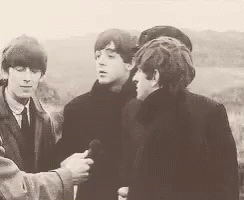 It's just so random. 😛
I love MO sunsets. I think they're quite majestic.
Yesterday was Purim. We had some dear friends of ours over the night before, and we made hamantaschen, and read the book of Esther, and booed Haman, and cheered Esther and Mordechai, in keeping with tradition. 'Twas quite fun. But alas, I was too busy enjoying the evening to take pictures, so I have none to share with you. 😦
I also went to work yesterday, on the mural I'm doing. T
he lady I'm working for gave me permission to share photos, so here's a picture of what I have so far. ( I know I said I don't like sharing unfinished artwork, but this is different.)
I think I'm about 20% done, and yes, my clients like it. In fact the lady I'm doing it for officially told me that she likes it better than the one I painted over, so that made me very happy. 🙂
Anyway, that's a little glimpse into my crazy life right now. I hope you enjoyed this post.
I'll leave you with a quote, just to complete the randomness of this post.
"The artist must possess the courageous soul that dares and defies"
~ Kate Chopin
(Had to stick something lionhearted/art themed in here. 😉)
See you all… maybe not next week (going to be very busy next week), but sometime soon.
~ Chalice