I haven't been making a ton of art these last couple weeks. In fact, I've felt pretty arted out lately. So instead of sitting down at my desk and picking up my pencils, I'm sitting at the computer writing a blog post. My brothers keep telling me, "You need to post more art. The name of your blog is 'Lionhearted Art.'"
So here's some of the art I did in 2019. The failures. The successes. Today you will see it all. The good, the bad, the ugly.
First off I would like to ease you in with some harmless character sketches I did for my brothers. I have a folder full of sketches of characters with no story, just waiting to be used. Earnest sometimes looks through them when he needs a new character, and he recently pointed out that I had mostly girl characters. So I made him some guy characters.
Meet Harv Richards. Your carefree comic relief character, here to spice up your story by making jokes at inappropriate times, and annoying your main character to death. Just make sure he dies heroically, and your readers will love him anyway.
Malcolm Kendall. Not sure what this man's story is. He could be a villain…. I kind of like him too much to make him the bad guy, though. Maybe he's a villain with a redemptive character arc, who knows? (He kind of reminds me of Drosselmeyer from the Nutcracker, actually. 😝)
Toddie Berryll. Cuttlefish hunter extraordinaire. This is a character Earnest specifically named and created. Don't ask me what a cuttlefish hunter is. I finished the drawing for Earnie and it turned out he just created him on a whim and never actually had a story for him. What??
Brendon Porter. Aka, "Unsuperman." This is one of Sam's characters that I sketched. I'm not sure I like how it turned out, so I might have to do a "do-over" sometime.
A short while ago, Earnest asked me to do another quick character sketch for him. "Just make him look kinda like me, you know?"
Say no more…
I thought it was a pretty good caricature. Earnest seemed to be slightly offended, but thankfully he has a good sense of humor. We couldn't decide if it looked better or worse the more you stare at it.
I did a bit of drawing in my sketchbook last year. I had a lot of fun playing around, toning my paper with graphite, blending it out with a paper towel, and creating the drawing from there.
Something that's stood out to me lately, is that there's not enough author fan art out there. I see fan art of book characters, movie characters, actors, singers, and musical artists… But where is the fan art for the authors? So, I'm starting a new trend. Author fan art. Spread the word.
My first drawing was one of Nadine Brandes.
As you can see, she turned out looking a little…. wide.
Nothing a little erasing can't fix. (Sometimes you just gotta wail on it a while.) Now instead of having a drawing of some who looks kind of like Nadine Brandes, I have a drawing that look mostly like Nadine Brandes. Yay!!
I did another one of my Grandpa, Dr. Karl Coke. I've learned that with almost every drawing you do, you hit that point where you find yourself asking, "Can anything good come from this?"
But keep at it, you may have to erase half the face once or twice, but in the end, I can tell you from experience, it's worth it.
A friend suggested I draw Mr. Darcy (aka, Matthew MacFadyen). Well, that should have been simple enough, but somewhere along the way I messed up the nose, and then I had to redraw it, and, well, this happened:
Here's the (mostly) finished version. I didn't have the patience to fill in the top of his head. 😛
Then the same friend suggested sketching Penelope for real, and Grace suggested sketching Henry Tilney.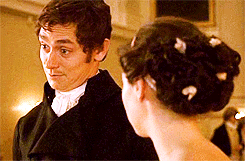 So I did both.
Some people are just hard to draw. Mr. Tilney is one of them.
And then after I did Penelope, I decided to do Annie too. She was always my favorite character. (Gotta love the grunge hair, too.)
What monstrosity is this??
I started over. (Also, I was just messing around on some scrap paper, so that's why these look wrinkled.)
Well… I guess that's better…. It looks like a person, but it still doesn't look like her. *sigh* What I learned from these drawings is that sometimes you just gotta wail on it a while… but sometimes you gotta let it go. So that's what I did.
This year, I would really like to experiment more with digital art. I did a digital self-portrait near the end of last year, and I'm pretty happy with how it turned out, even if it doesn't look exactly like me.
Another character sketch, which turned into a digital painting. I actually did this one for a friend of mine earlier this year.
I'm afraid it doesn't actually look very much like her character. (It's hard enough to try drawing something from your own imagination…) But she liked it anyway. 🙂
And finally, my younger brother Linus did an art exchange with me. He gave me an epic picture of an owl warrior, and requested a picture of Han Solo in return.
Despite the fact that the print I gave him was wrinkled and folded within the hour, I think he liked it. 😉
Well, that's all I got folks. I hope you enjoyed this post!
Aaand, I don't have anything else to say, so… adios.