It is a Sunday night. I'm sitting at my Dad's computer, because my laptop internet has decided to be picky and only let me use the internet to listen to music on Spotify.
I don't know why I'm telling you this, but anyway, here I am. And I'm writing a blog post. Because at one point I mentioned doing a blogging challenge, and now my brother won't let me not do it. (Honestly, I sometimes I wonder if I would get anything done if not for my sibling's constant and loving nagging.)
So what is this challenge? To blog for six consecutive days. That's right. Six days in a row, without fail.
Why? Well, for several reasons.
One of my goals for this year was to write at least 40 blog posts. And I'm a little behind.
Well, I challenged myself… and I never turn down a challenge. Okay, I rarely turn down a challenge. I don't know, I just feel like I need a challenge right now. Something lionhearted, to push me out of my comfort zone, you know?
Also, it might be fun. *shrugs* Who knows? It'll probably be more fun for me than you all, who's inboxes I'll be showering with my random ideas and chaotic thoughts…
And that leads me to the "what" of this post. What will I be posting? Well… I have a few ideas. Maybe I'll share some writing (*sucks in breath* that would sure take some lionheartedness), or maybe I'll post a video, or a recipe for the "almost" perfect omelet (still working on that one), or maybe I'll just ramble on. I don't know. We'll see when we get there. Hopefully whatever it is will be uplifting and edifying. Feel free to leave any suggestions in ze comments. I'll definitely be around to read them. 😊
I hope you all will stick around for the ride. If not, well, I understand. I won't hold it against you. In fact, at this point I'm more worried about whether or not I'll stick around for the ride.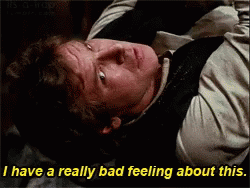 Anyway, I guess this is day one. And I'll just let this be my introduction post, because it's almost ten o'clock and I kind of want to go to bed.
Until tomorrow, then.